JADES Project (Promoting the sexual health of adolescents) in Mali and Niger: feedback on sharing results and strategic planning workshops
communication | 29 December 2016 | Informations
JADES Project aims to reduce new HIV infections and deaths and illnesses related to HIV and AIDS raising awareness in young people so that they can take charge of their own health. After the project launching workshops held in spring in Niger and in summer in Mali, the iagnostic phase took place in...
---
Training week for the 4 country coordinators of the OPP-ERA project
Training on the project phase 2 implementation and monthly steering committee
Rachel Demol-Domenach | 19 December 2016 | Informations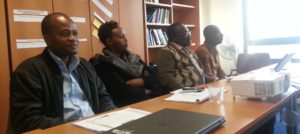 The 4 country coordinators of the OPP-ERA project in Burundi, Cameroon, Côte d'Ivoire and Guinea gathered in Solthis' headoffice  in Paris from Decmeber 12 to 16  for a week of training. This week, the project managers of  each consortium' member organizations, the OPP-ERA team based in Paris...
MORE NEWS